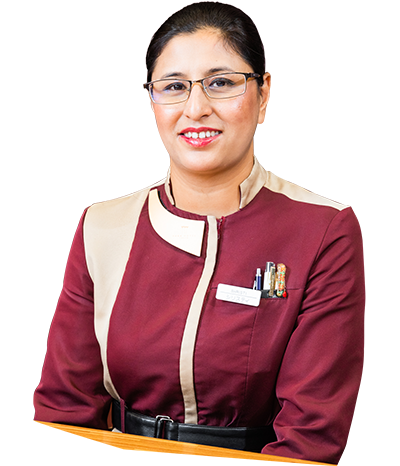 Although I had no real concept of Japan as a country, I loved watching Japanese cartoons.

While I was learning Japanese, I watched Japanese dramas that were set in a hotel. It seemed to me that Japan had the best customer service standards in the world—they were so kind and polite. Also my brother was working in Japan as a software engineer. This got me thinking about moving to Japan to pursue further study.

In order to pursue my dream of working for a Japanese hotel, I came to Japan and took a language course, then I entered a hotel training school.

I started looking for work, and managed to find my current job through a recruitment website. I joined in April as a contract employee, and then they hired me as a regular employee.
Don't rush when searching for a job—just continue until the right one comes along

If you want to get a job in Japan, my advice would be to develop an understanding and appreciation of Japanese culture, and to research the corporate culture and business operations of companies that appeal to you. If you don't buy into the company's vision then you won't enjoy your job and eventually you'll quit out of frustration. You need to find out as much as you can about a potential employer: look through recruitment sites and the company's website, visit the hotel to get a feel for what it's like, and talk to employees who graduated from the same training school.
 And the important thing is not to rush the process. If you want to find a job that suits you in the long term, it needs you to keep searching for a job to satisfaction. I took longer to find a job than most of my peers at training school. But I'm glad that I pushed through until I'd found the right job because I'm really happy here.
In my job I have a fair bit of responsibility because the guests' first impressions of Japan depend on me.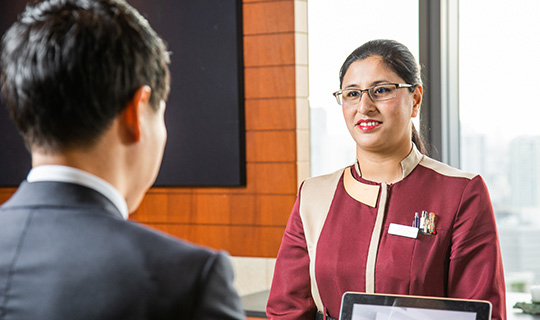 Shiba Park Hotel Co., Ltd. actually has two hotels: the Shiba Park Hotel and Park Hotel Tokyo. I work at Park Hotel Tokyo's Accommodation Group. For the first three years I worked as a bellhop. For the next two years after that I worked at the front desk, and I've now become the front desk manager.
There are times of the day when it gets very busy at the reception area and you have to work fast. I try to remain calm and focused at all times with the help and advice of senior colleagues. I am proud to say that I sometimes get complimented by customers on the quality of service I provide, and some customers choose to stay with us again.
For a visitor from overseas, the hotel reception is effectively their first experience of Japan, so we have a really important role. Japan has a really wonderful culture of hospitality. I still have much to learn—every day is a learning experience. But when a customer thanks me for my efforts, I get really motivated to do better.
Tokyo is definitely the best place to learn how to provide good service to people from different countries.
One of the key attractions of Tokyo is the large number of international visitors. Working in the hotel industry, you get to meet people from Asia, Europe, and all over the world. Being part of a global hub is a learning experience in itself.
While Japan has internationally renowned tourist destinations such as Kyoto and Hokkaido, if you want to do business then Tokyo is definitely the place to be. Tokyo is a natural hub for information and technology, where you can keep your finger on the pulse of what's happening in Japan.
And the service industry in Japan is second to none in global terms. I want to utilize the customer service skills I've learned in Japan when I eventually go back to Nepal. We currently don't have the same kind of consideration and attention to detail in my country. In addition, the people I work with at the hotel are very kind and friendly. When I was a student, I heard stories about Japanese hotels being very strict. So I was a bit nervous about how I'd be treated by my supervisors and senior colleagues. But I'm happy to say that everyone has been wonderful to me. I feel like I've learned so much and grown as a person.
I quit graduate school and went to fulfill my dream of working at a hotel in Japan.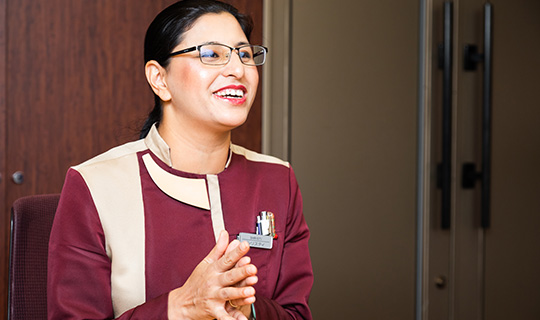 As a young child in elementary, I loved watching Japanese cartoons although I had no real concept of Japan as a country. I was learning Japanese when I was in college. At that time, I watched Japanese dramas that were set in a hotel. It seemed to me that Japan had a high level of customer service—they were so kind and polite. Aside from wanting to learn about it, my brother was also working in Japan as a software engineer at the time. This got me thinking about moving to Japan to pursue further study. I made it to graduate school but quit halfway through to go to Japan and learn about the hotel industry.
I took a Japanese language course then entered a hotel training school. I was prepared to quit my postgraduate studies to learn about the hotel industry in Japan. The more I studied, the more I grew to love the industry and felt vindicated in my decision.
Initially I had trouble finding work because I didn't know how to go about it. Then one of the lecturers in school showed me a recruitment website; from there, I found several hotel listings and sent off applications. Before long this company called me in for an interview. They gave me a tentative job offer soon after the interview, and I was happy to accept. When I came to see the hotel I was impressed by the smart reception area, the friendly staff, and the number of international visitors. It was very much what I'd been hoping for.
Tokyo is recommended as a safe and welcoming destination for international visitors.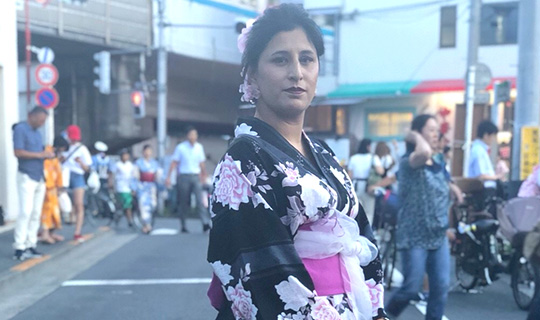 The thing that visitors to Tokyo most often say is that Japan is a safe country. For example, they might have heard that if you lose something in Japan it'll get returned to you. And then they come here and discover that it's really true. And Japanese buildings are well equipped to cope with the forces of nature. Buildings in Japan, including the hotel where I work, are designed to withstand strong earthquakes. Compared to Nepal, Japan is well-prepared for natural disasters.
Tokyo is also packed with tourist attractions and other things to see and do. I sometimes go and visit key tourist attractions in Tokyo on my days off because understanding the tourist experience is part of my job. I go to different kinds of places, from "typically Japan" spots like Asakusa to karaoke bars and bowling alleys. I'm always impressed by how polite and courteous Japanese people are, even in crowded tourist areas.
Tokyo is a great area with a number of fine museums and galleries, like in Ueno, where you can learn about art and culture.
And you can easily get the latest products such as smartphones in the city. Tokyo has so much to offer, and I'm happy to provide guests with recommendations on where to go and what to see.
Interviews with Corporations
Manager Atsushi Ono
Let's welcome as many customers as we can!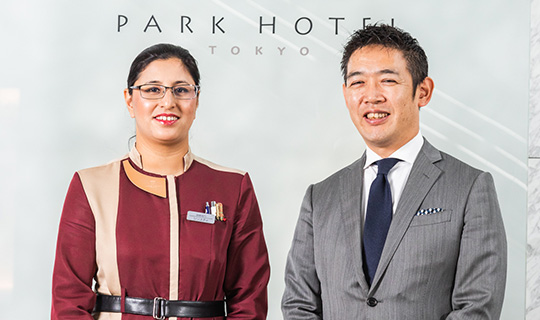 Every year we see more and more foreigners coming to work in Japan. Many of them are working for us. Tokyo is a leading tourist destination that attracts many visitors from overseas. Our hotel is very popular as it is within easy access of the airport and tourist attractions. Our workforce comprising many different nationalities plays a huge role in our business. Many of our non-Japanese employees are bewildered at first by differences in language, customs and etiquette, in particular the honorific forms used in Japanese. I'm proud to say that they have all overcome these initial hurdles magnificently, thanks to the patient assistance of their supervisors and colleagues. We need talented and enthusiastic workers to join us in welcoming as many customers as possible. If you are interested in working in a hotel in Japan (Tokyo), please get in touch with us.