The TOKYO CAREER CONSULTING DESK is a service through which professional career consultants will respond in detail via phone / email and online to any enquiries and questions about steps to work in Tokyo that you may have. Depending on the content of the consultation, local representatives in Tokyo or major Asian cities. etc. will meet with you online or directly to help you find employment in Tokyo. Please note that we are not able to provide recruiting information of specific companies.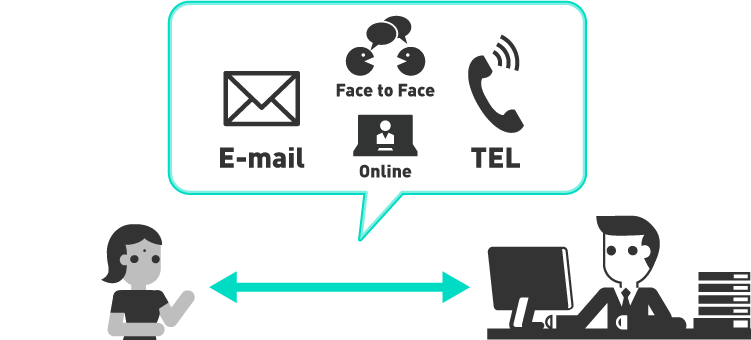 Consultation examples:
- Tell me about the Tokyo job market
- What should I do first to go about working in Tokyo?
- Am I able to work in Tokyo with my current Japanese language skills?
- What skills should I acquire in my native country in order to be able to work in Tokyo in the future?
TOKYO CAREER CONSULTING DESK
Consultation hours

Monday to Friday, 09:00 – 17:00 (Japan time) (excluding public holidays and the year-end and New Year holidays)

How to use

Please enter the content of your enquiry using the enquiry form. You will receive a response from the Tokyo secretariat via email. Telephone consultation is also available.
Face-to-face consultations are also available at the Tokyo Consultation Desk or at our overseas offices, but you must make an appointment in advance by phone or email.

TEL

+81-(0)50-5576-7317

languages

・Tokyo Consultation Desk: Japanese / English / Chinese
*Online interpretation: Korean / Portuguese / Spanish / Vietnamese / Filipino / Thai / French / Nepali / Hindi / Indonesian / Russian / Khmer / Myanmar
AI translation machines: Ukrainian and others
・ Overseas Consultation Desk: Japanese / English / Overseas locations native language
〇 Tokyo Consultation Desk
Tokyo International Recruitment Navigation Center
Ito Building 1-2 Yotsuya, Shinjuku-ku, Tokyo (1 minute walk from Yotsuya station)


〇 Overseas Consultation Desk
Interviews are available in the following cities (As of December 1, 2020)


| | |
| --- | --- |
| Vietnam | Ho Chi Minh City, Hanoi, Da Nang |
| Indonesia | Jakarta |
| Thailand | Bangkok |
| India | New Delhi, Gurgaon, Mumbai, Chennai, Bangalore, Ahmedabad, Hyderabad |
| Singapore | Singapore |
| Malaysia | Kuala Lumpur |
| China | Shanghai, Guangzhou, Shenzhen |
| Taiwan | Taipei, Kaohsiung, Hsinchu |
| Hong Kong | Hong Kong |
| Korea | Seoul |




Consultation fee

Free (you will, however, be required to bear any communications charges and expenses required for transportation to the consultation venue)
Please be advised that this website shall not provide any job offers.