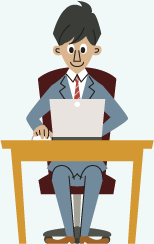 Two different application documents are required.
If you understand the keys to creating these,
your application documents will make a better first impression.
What are the
application
documents?

These are actually two separate documents—the rirekisho and the shokumu keirekisho. A cover letter is not required. Applicants with good English language skills should also prepare a resume in English to demonstrate their English ability.
What is a
rirekisho?

This is a timeline summary of your employment following university. The rirekisho is a tool to convey the fundamentals of your own academic history and work history. Although it may be hard to distinguish yourself from other applicants, appearance is important since it makes a positive impression on those responsible for hiring.
How to write a rirekisho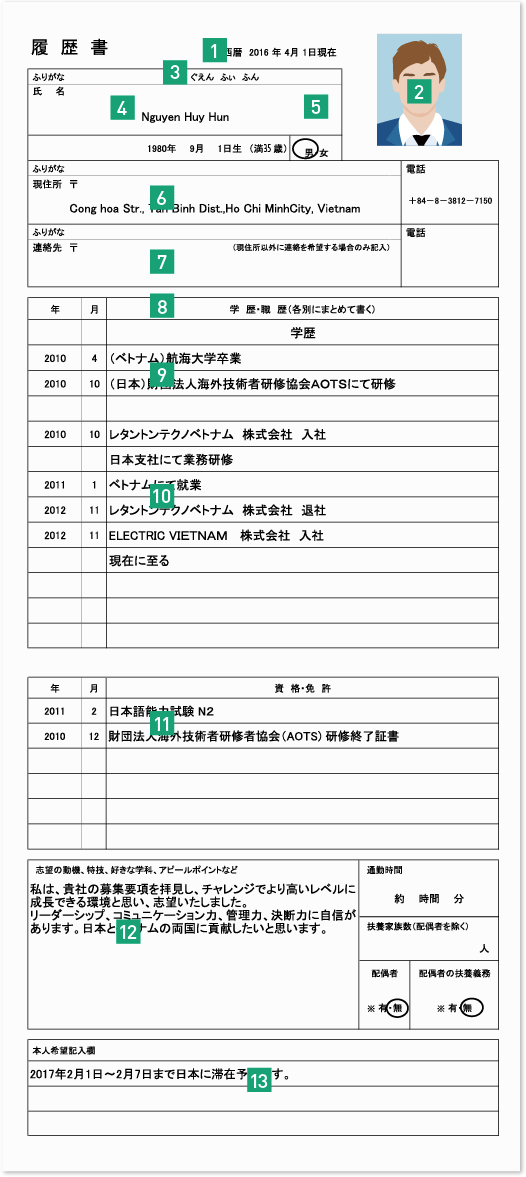 Date of entry

Write the date that you send it in via email.
Photo

Plain white background
Wear a suit
Pronunciation (furigana)

Write in the pronunciation of any kanji characters in hiragana
Name

Either alphabetically or in kanji characters
A seal impression is not required
Current address

Start with the name of the country you live in Write your phone number starting with the international calling code
Contact details

If your future address in Tokyo has already been determined, include this here
Academic & employment history

You can skip your academic history below the age of 18
However, as an exception to this rule, if you've studied in Japan before, you should write it in here
The academic institution (or company) name can be written in English
Write your employment history after your academic history
Qualifications & licenses

Write these in order of date of acquisition, prioritizing any qualifications related to the job
Motivation for applying, special skills,
favorite subjects, points of appeal, etc.

Write the reasons why you want to work for this company. It's a good idea to include any memorable points of appeal such as skill at sports, musical instruments, etc.
Comments

If you already have firm plans to travel to Tokyo, include your planned dates here.
【Please note】

The following information is not
required

Nationality
Religion
Passport number
Bank account information
Height / weight
Name / age / workplace of family members
Proofreading
Using the spellcheck function, check that your document contains no Japanese language mistakes.
| | |
| --- | --- |
| What is a shokumu keirekisho? | This document showcases the desirability of your employment experience. |
5 elements to include in the
shokumu keirekisho

What kind of employer? (overview of industry & company)
What kind of work? (department, job category, details of work tasks)
What kind of efforts and performance? (attitude to work, ability to learn)
What kind of results achieved? (outcomes, proven track record)
What kind of work do you hope to tackle in future? (enthusiasm)
How to write a shokumu keirekisho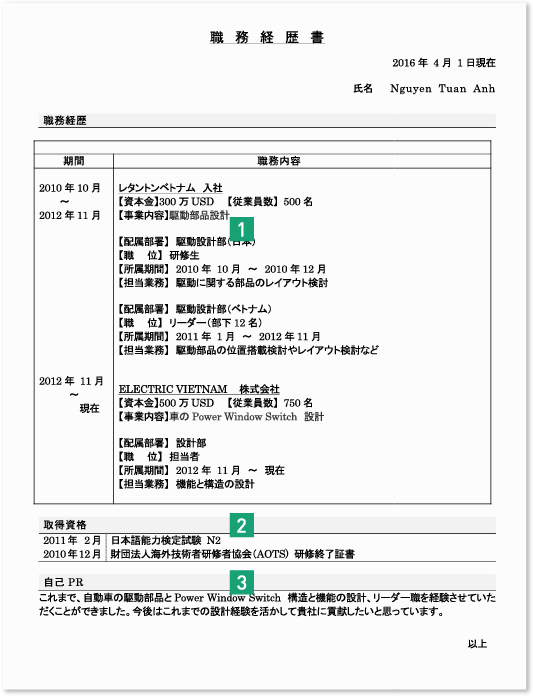 Layout & length (pages)

The document should be 1 or 2 pages in length. Write the same dates as those listed on the accompanying rirekisho.
Employment history

In the company overview, you should clearly indicate the scale of the company and a description of its business.
If this is a leading company in your home country, include its market share (or ranking) within the industry.
Indicate performance using concrete figures. Indicate the company's performance and your own performance separately.
If you have management experience, include details of your role and the number of personnel beneath you.
Qualifications attained

Write in the date of acquisition and the correct designation of any qualifications attained
Include any results from the Japanese-Language Proficiency Test, TOIEC testing, etc.
Self-promotion

This should showcase your actual abilities in relation to the specific job listing.
If you've had a long-held intention to work for the company that is hiring, include details of that intention here.
Reference: HelloWork Internet service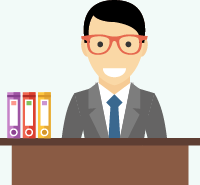 What sections of the application documents
get the most attention?
IT HR Manager A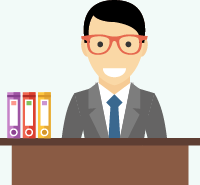 I pay the most attention to 2 areas of the application documents
1.Work experience in the applicant's home country
I scan the application documents to check whether the applicant has any employment experience in common with the position advertised, such as similar industry, job category, goods or products handled, etc., as well as their knowledge of business customs, contacts in the home country, etc.
2.Affinity for Japanese language & Japanese corporations
Rather than the applicant's current level of Japanese language ability, I want to know how fast they will be able to acquire Japanese language ability. For example, even for an applicant with level N3 of the Japanese-Language Proficiency Test (JLPT), I will look at how long they've been studying Japanese. I also read through the rirekisho and shokumu keirekisho looking not only for work experience at Japanese corporations, but also evidence of understanding of Japanese corporate culture—for example, experience trading with Japanese corporations, part-time work experience at a Japanese restaurant, etc.
Before applying
Consider your career in Tokyo
Set goals and plans, and work out what you should be doing from here on. Think about your career—what sort of person do you want to become in future? Work out how your previous experience is connected to Japan, and what you expect to gain from moving to Tokyo. It's important to clearly understand what it is you wish to achieve.
Look for a job that suits you
After you've figured out your reasons for wanting to work in Tokyo and the goals you absolutely want to attain, you need to look for a job. When searching for work, you need to make sure your hopes are appropriate and realistic —what are the circumstances of the industry that you're interested in? How do you rank your own experience? You should enquire with some of the job placement companies listed under FIND A JOB.
How to apply
There are two main methods of applying: either applying directly from the hiring company's own website or a job search website or applying via a job placement agency. If applying directly, you can make a positive impression on the person in charge of hiring at the company. If applying via a job placement agency, you can benefit from a free service offering explanations in your native language and introducing you to prospective employers that are a good match. In either case, at the time of application it's important to convey the idea that you're keen to go to Tokyo for the selection process or to join the company. You can search for details of job listings at FAQ JOB INFORMATION.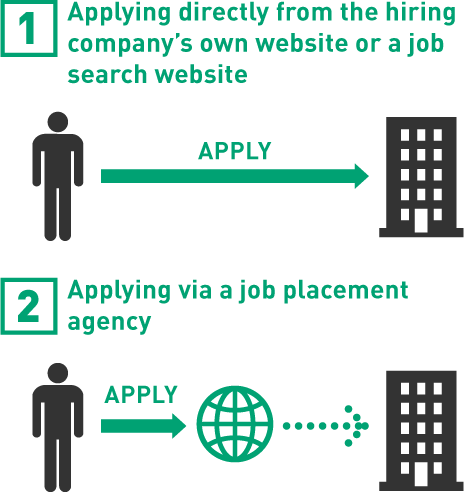 After applying
The hiring company or job placement agency will contact you in a week or two about the result of your document application. If you are successful, an interview will have to be scheduled, so you should respond as soon as possible.
If you are unable to travel to Tokyo to attend the interview, you may be able to take it via international phone call, via internet phone, or in person in your location (if the company has an overseas office in your country). No matter which interview method is used, during your application it's important you convey to the company (or job placement agency) that you firmly intend to travel to Tokyo to work. It's also a good idea to prepare some questions you might want to ask during the interview.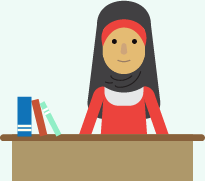 Try to analyze questions such as "What are your strengths and weaknesses?" and "Why do you want to work at this company?"
Tokyo Career Consulting Desk /
Consultant / Malaysian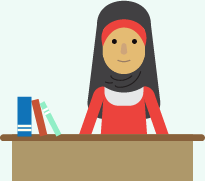 Consider the reasons you want to work in Tokyo (e.g. "I want to try working in Tokyo because it's the heart of Japan" or "I want to work in Tokyo because I share the diligent Japanese approach to work") and how your prior experience might contribute to the company. By working out your answers to these questions, you'll get a clearer picture of the kind of company that is seeking someone like you
Once you have decided on the job you want, gather information via the company's website etc.
The recruitment information will often show scenes of employees who are already working at the company, so you can get a sense of the workplace atmosphere at the company.
By doing your own analysis and industry research, you will be more confident during the interview and will make a more positive impression. It's definitely worth doing.
On the day of your interview
If interviewed at the company
Remember to bring all the application documents (rirekisho, shokumu keirekisho, English resume) you submitted to the company, as well as the job listing details and some writing implements.
Basic etiquette requires you to wear a business suit to interviews. Be sure your clothing imparts a professional impression.
Ensure you are not late by arriving at the interview location 15 minutes early, and check your grooming and appearance. Turn your cell phone off and present yourself for the interview by giving your name at the reception desk 5 minutes in advance.
If you are shown to a waiting room or interview room, take the seat closest to the door and wait quietly. When the interviewer arrives, stand and introduce yourself by name.
When notified that the interview is finished, thank the interviewer for their time and bow once in the Japanese fashion. This will give the interviewer the impression that you are familiar with Japanese business etiquette.
If you are late to the interview due to unavoidable circumstances, be sure to contact the company by phone and state an estimated time of arrival.
If interviewed via international
phone or internet phone
Choose a quiet location with good phone reception and Internet connection, well insulated from surrounding noises. Block all other phone lines so you are not interrupted during the interview, and turn off your cell phone.
Since your whole body will not be visible, there will be a tendency to relax, but you should still wear a full suit in order to convey an enthusiastic attitude.
Prepare for the interview in advance, and be ready to receive the call 10 minutes before the appointed time.
Have all the application documents (rirekisho, shokumu keirekisho, English resume) you submitted to the company ready to hand, as well as the job listing details and some writing implements.
Some questions frequently
asked at interviews
Previous work history
Convey in concrete terms the details of your work responsibilities and how your work contributed to your previous employer. You should also explain how your current skills and experience could be useful to your prospective employer, as well as how you devise solution to work problems.
Reasons for changing (or leaving) your job
Don't use negative phrases or express dissatisfaction with your previous employer.
Reasons for wanting this job
Enthusiastically convey your reasons for wanting this job, and express how you wish to make good use of skills you have learned previously. In order to do so, remember to research both the industry and the company before the interview.
Your deal future career
Make a positive impression about how you would like to work if you were to join the company, while keeping in mind the direction in which the company is heading. Be sure also to convey your ability to strive to achieve your goals.
Experiences of success
and failure at previous jobs
With your experiences of success, be sure to explain in concrete terms why you succeeded.
With your experiences of failure, be sure to explain how you took action afterward and what you learned from the experience.
Ability to use Japanese, English,
and other languages
If you have used any of these languages in the workplace, be sure to state this specifically

e.g.) "I have used Japanese to offer telephone and email support."
"I have explained products to clients in English" etc.

e.g.)
"I have used Japanese to offer telephone and email support."

"I have explained products to clients in English" etc.
Seeking positions with other
employers
There is no need to state specific company names, but if you are seeking work with multiple prospective employers, you should convey this honestly. Even if the interviewing company is not your first preference, you should give an impression of eagerness. If it is your first preference, you should earnestly and clearly state the reasons why you place this company first.
If it has been a long time
since you left your last job
Answer honestly and without awkwardness. State the reasons you have been so long between jobs, as well as explaining what you have achieved and all the efforts you have made during this 'blank' time.
Interview readiness
The interviewer is examining not only at the content of your responses, but also at your attitude and behavior during the interview. Confirm your interview etiquette and manners in advance.
Greetings are a fundamental part of etiquette, so at the start and end of the interview, you should be sure to express your gratitude for the interviewer making time to see you.
If you are too nervous, you will tend to speak too quickly. Take care to speak slower and more clearly than usual.
During the interview, maintain good eye contact with the interviewer and answer questions confidently.
Offer letter
If you pass the interview, you will receive an offer letter (naitei tsuchisho) via email. Check it to make sure that the job description and salary etc. are the same as outlined in the job listing and in the interview. Contact the company within one week of receiving the offer letter to notify them of your intent to join the company. After this, you should commence your visa and residence application procedures.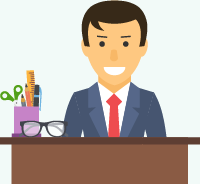 I'd like applicants to answer me, "In what specific ways do you want to become a bridge with your home country?"
Service industry HR Manager A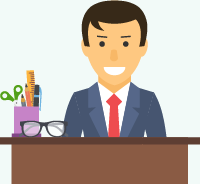 When I interview non-Japanese applicants from overseas, there are 3 matters of key importance.
What sort of overseas work experience, know-how, and network of contacts does the applicant have?
For applicants with overseas work experience, having worked at a company like our company that does overseas business is much more attractive. For example, even if we have the language skills, in Japan we often don't fully understand local business customs or can't get a feel for people who live overseas, so applicants with overseas work experience have all the more advantage.
Is the applicant respectful?
Our company has a huge number of Japanese staff, and Japanese business culture can seem quite mysterious when encountered by people from overseas. At such times, the employee first needs to accept and try to understand the situation respectfully. Afterward, I believe it's important to make mutual efforts to find some compromise.
Is the applicant trustworthy?
When I ask interview questions, I expect everything discussed to be 100% factual. I'm always probing to make sure the applicant is not overstating their own skills or experience or taking full personal credit for an organization's performance, etc.
Whenever I interview overseas applicants, 9 out of 10 say they "want to become a bridge with their home country." I always want them to be more specific, and so I ask, "After joining the company, what experience will you utilize and what results will you produce to become a bridge with your country?"
Procedures before entering
Japan
In order to work in Japan, you need to acquire a visa and Status of Residence.
If you are a non-Japanese person living overseas, your prospective employer in Tokyo will apply for and acquire a Certificate of Eligibility for Resident Status on your behalf, and will send it to you. You need to present your Certificate of Eligibility for Resident Status at a local Japanese embassy or consulate and undertake a visa application in order to acquire a visa. If your family will be accompanying you to Tokyo, they will also need visas and Status of Residence documents, so you should ask your prospective employer to undertake the appropriate procedures to acquire Certificates of Eligibility for Resident Status.
When entering Japan, if you present your passport and visa at immigration control at the airport and show your Certificate of Eligibility for Resident Status, you will receive a stamp in your passport approving entry to the country. You will also be able to acquire a Residence Card there.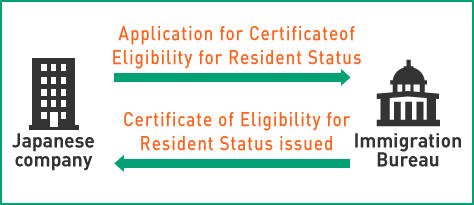 Certificate of Eligibility for
Resident Status sent




Entering Japan
---
Q

What is Status of Residence?

A As a general rule, non-Japanese people who enter and reside in Japan receive permission to land at the port of entry in accordance with their Status of Residence determined at that time, and are thus able to stay in Japan. The Status of Residence determines the range of activities permitted to non-Japanese citizens during their stay in Japan. As a general rule, non-Japanese are prohibited from earning income other than from the activities approved by their Status of Residence.
The Status of Residence for working non-Japanese people newly employed by a Japanese company is determined by the type of work they will be doing. For example, in many cases this is "Engineer/Specialist in humanities/International services," but it might be "Legal/Accounting services" for a legal or accounting office or "Researcher" for a research institution.
Statuses of Residence
permitting work within
a stipulated range
Status of Residence
Examples of appropriate work
Period of
stay
Engineer/
Specialist in humanities/
International services
Mechanical engineering, systems engineering, technical development, design, quality control & planning, finance, sales, marketing, interpreting, translation, language instruction, advertising, overseas trading work, product development, etc.
5 years,
3 years,
1 year,
or
3 months
Business
manager
Managers of overseas companies etc.
5 years,
3 years,
1 year,
4 months,
or
3 months
Legal/
Accounting services
Lawyers, certified accountants, etc.
5 years,
3 years,
1 year,
or
3 months
Intra-company
Transferee
Transferees from overseas offices
5 years,
3 years,
1 year,
or
3 months
Research
Researcher at a government-related organization, private company, and so on
5 years,
3 years,
1 year,
or
3 months
Statuses of Residence with
no restriction on activities
Status of Residence
Examples of relevant persons
Period of stay
Permanent
resident
Those who have received permission for permanent residence from the Minister for Justice
No limit
Spouse or child of
Japanese national
Spouse, biological child, or special adopted child of a Japanese national
5 years,
3 years,
1 year,
or
6 months
Spouse or child of
permanent resident
Spouse of a permanent resident or special permanent resident, or a child born and continuing to stay in Japan
5 years,
3 years,
1 year,
or
6 months
The Immigration Bureau's website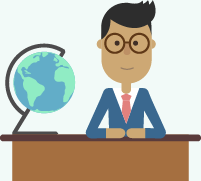 "Your employer applies for your Status of Residence,
but you apply for your visa."
Tokyo Career Consulting Desk
Consultant Indonesian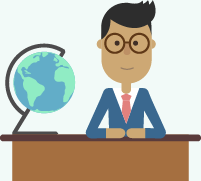 Your prospective employer will apply for your Status of Residence at the Immigration Bureau in Japan, but the application documentation varies depending on the size of the company and some companies are not familiar with the application procedures, so you should check for yourself the types of documents required, and be sure to keep in contact with your new employer.
From when you commence the application procedures it might take 2 or 3 months to receive your visa, but you should use this time to undertake resignation procedures with your previous employer and prepare for coming to Tokyo.
Preparing for departure
Preparing money
■When you commence working, it may take as long as a month before you receive your first paycheck. Since you will need 100,000 to 300,000 yen for apartment rental, food, and transportation expenses after arriving in Tokyo, you need to prepare either cash or a bank account or credit card that you can access in Japan. In the case of cash, each country imposes a limit on the amount of cash you can bring out of the country, so you should check the rules in advance before departure.

Preparing clothes
■In Tokyo, the temperature in summer and winter is close to 20 degrees Celsius. You should check the weather for the season you will enter Japan, and prepare 2 or 3 sets of appropriate clothing.
Coming to Japan
Renting an apartment
■Search for apartments on real estate or residential information websites or at real estate agencies. When you have decided on an apartment you like, you will arrange the necessary documents and expenses at the real estate agency and then enter into a rental contract.
■The real estate agency will hand over the key to your apartment on the date of entry. You should contact the telephone company, gas company, and Bureau of Waterworks to arrange procedures so you can start using these services.
■You should go and buy all the things you'll need for daily life, as well as going to greet your neighbors.
Registering your residence
at the city hall
Within 14 days of entering a new residence, you should go to the local ward office, municipal office, or city hall to register your certificate of residence.


Opening an account at a
financial institution
Once you're registered your residence, you should go to a financial institution to open an account. You may be wondering at which financial institution you should open an account. Your employer will designate an account for payment of your salary, so check with your employer first.
What you need to prepare
before starting work
■Cell phone & Internet applications
You will definitely need a phone number as a means of contact for your employer. You should enter into a contract with a cell phone (or smartphone) and Internet provider.
■You will need a suit, shoes, etc. for your first day at work.
■Confirm your route to work
Before your first day at work, you should actually catch the train or bus from your home to your work in order to check your commuting time and whether you need to change trains/buses etc.
Your first day at the company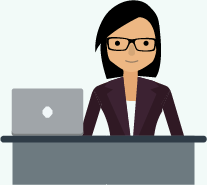 "You're finally in Tokyo!
Enjoy all the encounters that
Tokyo has to offer."
Tokyo Career Consulting Desk
Consultant  Taiwanese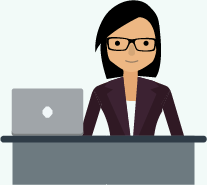 There are a lot of things to do from preparing for departure to actually starting work, but once you start work you'll be quite busy, and it'll be difficult to find time to visit the places that are only open on weekdays, such as banks and the city hall. Also, once you start work you'll be required to submit your address, contact details, bank account details etc. to your employer, so it's worth making a list and doing all these tasks one-by-one before you start work.
You'll probably have a lot of expectations and anxieties about your new job and life in Tokyo, but you should definitely view these all as new challenges and try to enjoy them.