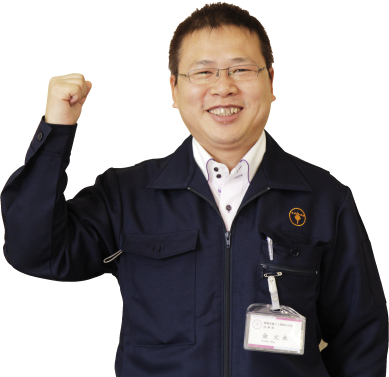 I started to take Japanese classes in school as a second-year junior high school student.

After graduating from a Chinese university, I found employment with a leading government-owned shoe manufacturer. Working in the sales department, I received orders and managed production.

A Japanese customer advised me "If you live in Japan and study Japanese, it will give you greater work opportunities in the future."
My mother drew the conclusion from her fortune-telling that "I should go east", so I saved my money to go to Japan.

I resigned from the Chinese company and enrolled in a Japanese language school in Tokyo.
My image of Japan significantly changed and I began thinking "I want to work here."

A Chinese friend working in a Nagoya-based machine manufacturer invited me to work with him, and I joined that company.
I worked in that company's Japanese HQ and, after expanding the purchasing and production management department, was transferred to the company's Chinese subsidiary where I started up the local purchasing department.

I resigned from the company in Nagoya with the desire to move to Tokyo, and found employment in Tokyo.
Please come to Tokyo, even just for a holiday, and gain an understanding of what it would be like to work here

If you are interested in Tokyo even just a little, the most important thing is to experience it with your own eyes rather than just imagining it. You won't notice the differences unless you go to various places. In the past, I used to cross roads without any pedestrian crossing without caring, but after living in Japan for three years I started to ask myself "am I causing a nuisance to anyone?" I didn't have such a good image of Japan until I actually came here, but once I came to Tokyo it didn't take me long to understand the greatness of Japan. My advice is to come to Tokyo, even just for a holiday, and gain an understanding of what it would be like to work here.
Important work supporting the company's production and sales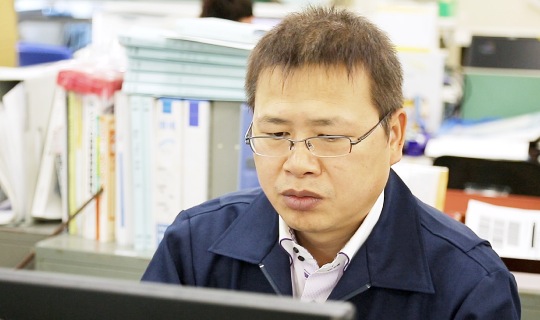 I work in the purchasing department that purchases the products and parts required by the company. The role of this department is to support the company's production and sales, so I think that it is important that we procure cheap, good-quality items only in the necessary quantity when they are required. Sometimes my work is complex, detailed and difficult, such as when the company has manufacturers produce goods based on drawings we have created in-house. I realize that teamwork is more important than individual efforts to ensure stable procurement and production, so I propose an idea for improving infrastructure development every week.
Tokyo is accepting of people with various ways of thought; there is a free and open atmosphere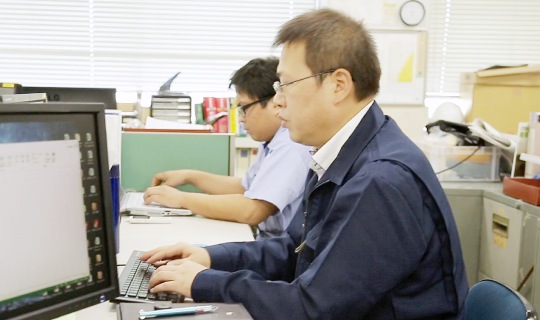 Because people come to Tokyo from many different countries and regions, it is possible to come into contact with the ideas of a variety of differing Japanese as well as those of foreigners. Many Tokyoites are accustomed to foreigners and people with different ways of thinking. For example, when talking with Japanese people in Nagoya about my work and the way of thinking in China, they were quite surprised at what I had to say and responded with "what? really!?" On the other hand, the Japanese people in Tokyo barely batted an eyelid. I think there is an atmosphere of accepting people with various ways of thought in Tokyo. I think discrimination actually occurs when people take too much care not to discriminate against others. In Tokyo, I don't receive any special treatment just because I am a foreigner; I am simply viewed as a procurement representative. It is said that Japanese people don't let others know their true feelings, however Tokyoites are relatively open and therefore easy to get along with. I think a city is made up of the ideas of its citizens, so I love Tokyo as a place where I can accept others and open up myself.
If you live in Japan and study Japanese, it will give you greater work opportunities in the future.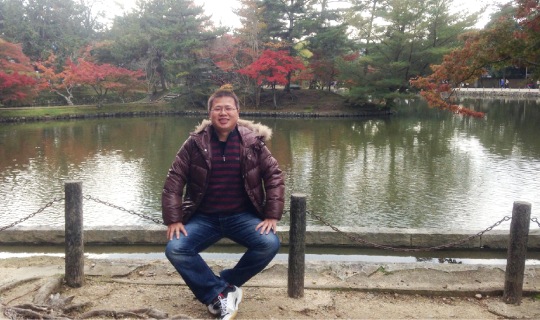 My father passed away when I was in junior high school, leaving myself and my four brothers in great poverty. At a time when the starting salary was just 100 yuan (about 8,000 yen), my mother borrowed 15 yuan (about 1,200 yen) from relatives and started selling kimchi in the market. Her business grew and she made enough money to put myself and my four brothers through university. I worked as an international sales representative in a leading government-owned company after graduating from university in China. At that time, my company was increasing its trade with Japan in order to produce the platform boots which were extremely popular in Japan during that same period. Although I had a basic understanding of Japanese from the Japanese classes I took from junior high school through to university, my Japanese proficiency was not at a level where I could sufficiently utilize it in my work; I had trouble dealing with Japanese companies. An elderly Japanese trading company employee who was a customer of the company gave me the following advice: "Trade between Japan and China will grow in the future. If you live in Japan and study Japanese, it will give you greater work opportunities in the future." While I didn't have the money to go to Japan and I dared not to say anything to my mother after having been lucky enough to find employment with a leading government-owned company, fate had it that she drew the conclusion from her fortune-telling that "I should go east", and this gave me the opportunity to discuss a move to Japan with her. I enrolled in a Japanese language school in Tokyo and came to better understand the language after around one and a half months. While studying at the language school, my Chinese friend referred me to a company in Nagoya where I landed a job. I worked for that company for a total of 13 years, including approximately two years working at its Chinese subsidiary, and I felt that the company was growing bigger. After returning to Japan from my post in China, I decided to resign from my position and realize my desire to live and work in Tokyo that I had held since I first moved to Japan. I was introduced to my current employer through a recruitment agency. The company I currently work for in Tokyo, while not large at present, is significantly expanding its business overseas, and I joined it hoping to be able to grow personally together with the company.
If there is something you want to do, you can always find a way or a place in which to do it in Tokyo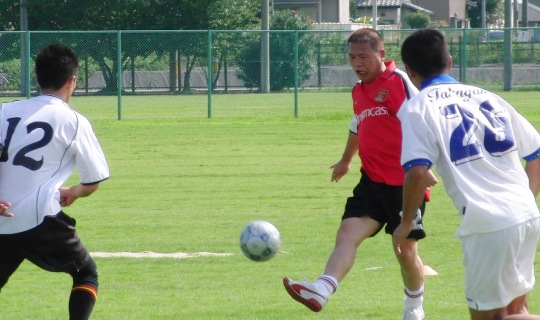 My image of Tokyo and Japan significantly changed after first coming to Tokyo. There is a high level of service and it is fun to hang out in such a beautiful city. I also experience a lot of kindness from the people here. You cannot feel this until you actually live here. For instance, if you accidently step on somebody's foot when walking through the city in a hurry, they will actually apologize to you (for getting in your way). I have also had a kind person take me, without hesitation, all the way to the location I wanted to go when I was lost and couldn't understand the directions in Japanese. There are various opportunities in Tokyo and, if there is something you want to do, you can always find a way or a place in which to do it. My hobby is playing futsal, and by searching on the Internet I was easily able to find a team which I could join and play three times a week.
The only problem I have with the city is the high cost of living. My monthly rent in Nagoya was 40,000 yen, but now I'm paying 70,000 yen for my place in Tokyo. So I think that it's important to make a budget of how much money to spend on things in order to enjoy living here.
Interviews with Corporations
Director & General Manager
Technology & Engineering Division
Watanabe Kimihiko
We want foreigners to work for us as negotiators to facilitate our development of world-class products here in Tokyo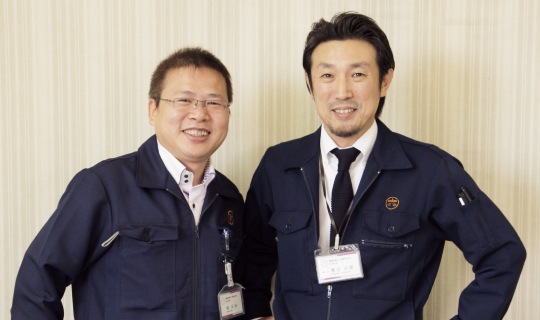 The products of Seidensha are difficult to sell from a catalog; they are specialized products which require an explanation. It is a difficult task to continue to expand our business overseas and achieve further growth if we cannot understand the language and the business practices of our foreign customers. Therefore, we would like to recruit foreign negotiators who are proficient in Japanese.
We are aiming to develop world-class global standard products here in Japan, and communication with overseas staff is considered important to that end. As well as conveying information about our products to our overseas staff, we also expect them to play an important role in obtaining local information about the country in which they are posted.
I came to realize the importance of language after starting to work together with Mr. Kin. I realized that it's quite dangerous to think you can have a mutual understanding from the atmosphere alone, and we have developed a culture in which our Japanese staff now provide careful explanations and utilize notes to ensure an accurate mutual understanding is reached. I have come to understand the importance of language as a tool for understanding the other party and communicating information to the other party in that sense.
If this understanding is spread throughout the company, I think it will lead to improved results. There are many Japanese people in Tokyo who understand foreign culture, so I hope that Tokyoites and foreigners who want to work in Tokyo are able to enjoy a mutual understanding in terms of life and work, and work together in order to experience a shared happiness as friends.