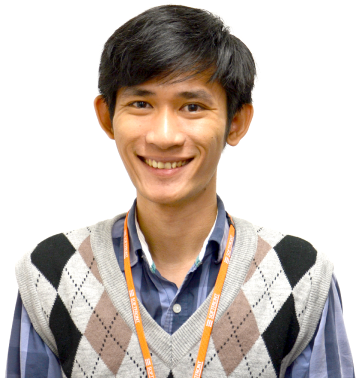 First became interested in Japan when I watched a Japanese movie.

Entered a system development company in Ho Chi Minh City. At the same time, I started going to a Japanese language school to learn Japanese in Ho Chi Minh City.

Started working at the Softfront office in Vietnam. I later had the chance to train in Tokyo for three months.

Returned to Ho Chi Minh City and worked as an engineer.

Transferred to the Japan office in August 2015 and I'm currently working as a bridge system engineer (BSE).
Nothing is impossible! Let's do it!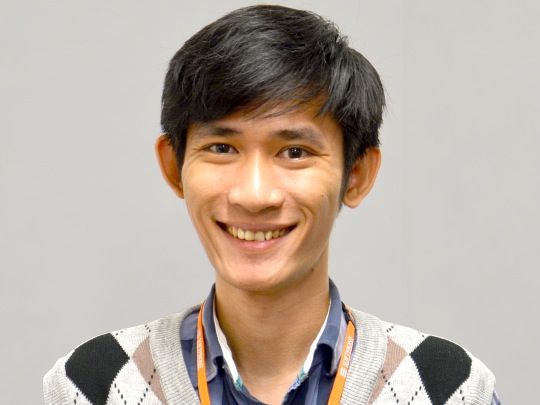 I would like share a word that my Japanese friend taught me, "Nothing is impossible. Let's do it." Unfortunately, I was not able to obtain the chance to study in Japan, but I was able to get an opportunity to work in Tokyo. Although I was not familiar with Japanese language and life and struggled initially, now I'm quite used to speaking Japanese and living in Tokyo, and I'm living my professional and private life in Tokyo to the fullest. I believe all way is opened by your sincere effort. I want you all to give it a try. I'm rooting for you.
Working as a bridge SE to advance the software developments in Tokyo and Vietnam smoothly.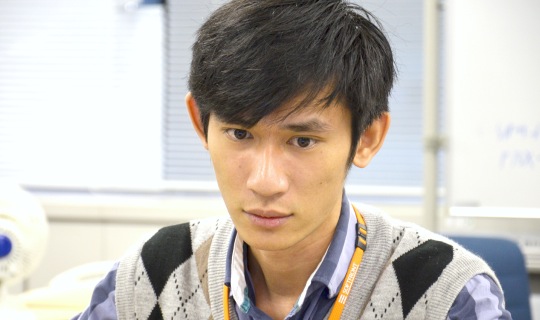 Currently, I'm working in Japan as a BSE at Softfront, a company that develops and sells software. We outsource some of the orders we received in Japan to Vietnam where the company has a development section and we develop software jointly. My job is to convey the software specifications to Vietnam and manage deadlines and quality. Therefore, I use the same amount of Japanese and Vietnamese everyday. I have eight co-workers in my department in Tokyo and we help each other to advance projects. We mainly use PHP and C# programming languages.
To carry out projects smoothly, I would like to of course not only solve linguistic and cultural barriers between Japan and Vietnam, but also to inherit the superior technology of Softfront and positive aspects of Japan, and propose ideas unique to Vietnam for further improvement with these synergies.
I have been enhancing my knowledge and skills by being stimulated by and learning from brilliant engineers.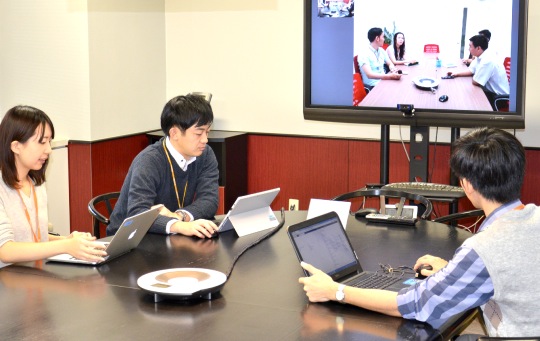 The primary attraction for me is to be able to work with brilliant and hard-working co-workers. Even when problems occur during development, my colleagues stand firmly and work until the end to complete their tasks. I feel I'm improving my knowledge and skills by being stimulated by and learning from the brilliant engineers around me. Fortunately,I have many bussiness opportunities in Japan,to see the overall pictures of the job,which I couldn't get in Vietnam. The tasks that are outsourced to Vietnam are part of the job, and now I have a broader point of view as I can see the whole picture. It has been a few months since I started working in Tokyo, and everyone here work fast and busily. This enables products and services of the highest quality to be created I think. As I experience more, I would like to become a project manager and be involved with big projects.
I saw the high quality of "Made in Japan" myself and wanted to work in Tokyo someday.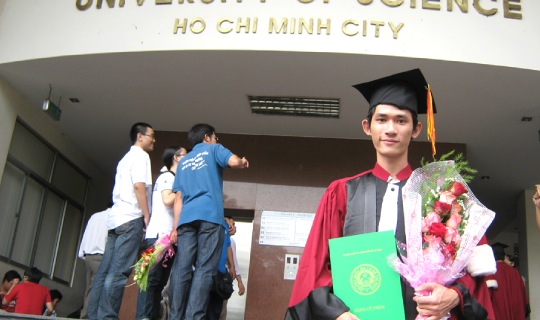 I became interested in Japan when I became adult because I watched a Japanese movie when I was 20. I learned about electronics in university and I became interested in Japanese technology and architecture at that time, which turned into a dream of wanting to study in Japan someday. At first, I applied for a scholarship to study in Japan. Unfortunately, I could not get the scholarship. After graduating from university, I started working at a system development company in Ho Chi Minh City. The company supported me to go to a language school and I had the opportunity to learn Japanese. While learning Japanese, I was thinking, "Why did Japan become rich? Why is "Made in Japan" good?" After working at the company for a few years, my friend introduced me to them and I started working for Softfront in Ho Chi Minh. The reason I changed jobs is because I became very interested in making people's lives richer by utilizing the communication technology called SIP/VoIP that the company handles. Later, I visited Tokyo for the first time for three months of training. As I was naturally interested in architecture, my first impression of Tokyo was that there are many tall buildings. While receiving the training in Tokyo, I met brilliant and hard working engineers, and also saw the excellent "Made in Japan" quality. Therefore, I wanted to work in Tokyo someday. After returning to Ho Chi Minh City and gaining more experience, I took the opportunity to work at Softfront in Tokyo, the parent company, in August 2015.
Tokyo is not only comfortable and convenient; it also has a lot of greenery close by so one can relax.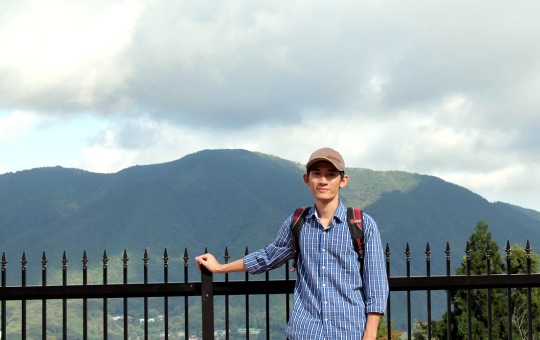 It has been only a few months since started living in Tokyo, so I am still learning Japanese from my Japanese colleagues and friends, and getting used to daily life. My impression of Tokyo is that it's a very comfortable and convenient city to live in. I would like to introduce you three reasons why I felt in that way. First of all, the transportation is very developed and convenient. Although I was initially confused when changing trains, I'm now very used to it and can smoothly use trains by checking the displays on electronic message signs in stations. The second reason is that public space is always maintained cleanly. I think this is because the residents are always conscious of it. Roads are also very clean and easy to walk on. The third reason is shopping is very convenient. There are many shops with a wealth of products, and you can find what you want easily. It is also fun to go to large home electronic retailers to window shop. Tokyo is not only for convenient, but it also has many parks and greenery, so on my days off I go to Shinjuku Gyoen, Ueno Park, Showa Kinen Park, and Mt. Takao to see a lot of nature and it helps me to refresh my body and mind.
Interviews with Corporations
President and CEO Katsuhiko Sakaguchi
Thanks to Liem-san, our projects between Japan and Vietnam progress smoothly.
Our company established Softfront Vietnam in August 2013. In order to take on challenges and grow the entire group in Japan and Vietnam, it is important for us to enhance the collaboration with Softfront Vietnam. Liem-san works in Japan as a bridge engineer between Japan and Vietnam. We used to struggle to advance projects due to the barrier between our languages and customs, but thanks to Liem-san, communication between Japan and Vietnam is effortless, and we can advance our development projects smoothly. To Softfront, Liem-san is indispensable. He always makes an effort for everything. Although there may be various challenges with working overseas, Tokyo is an easy city to live in with many attractive features. Please try to work in Tokyo just like Liem-san and we hope you would be the bridge between Japan and your country.