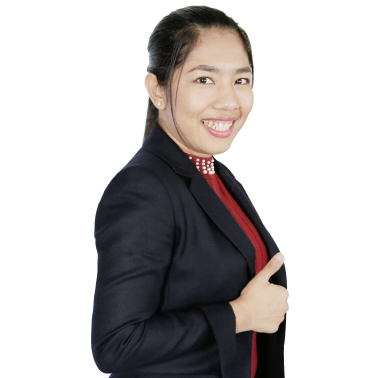 When I lived in Yangon, Myanmar, I developed an interest in Japan after watching the animated movie My Neighbor Totoro from Studio Ghibli.

When I attended the University of Computer Studies, Yangon, I became interested in the challenges of Japan as a country that excelled in the IT field.

I came to Japan and began studying Japanese at a language school in Shizuoka Prefecture. I remember feeling very surprised at the size of the towns in Shizuoka.

I attended an IT vocational school. We were supplied with individual personal computers at school, and I was surprised at the difference with Myanmar, where the students shared a single computer.

I moved to Tokyo to start my career at Witts Technology. This was where I first encountered state-of-the-art IT technology.

I participate in development projects for leading communication companies.
I have been involved in a wide range of business activities, and I participate in long-term projects over a year in length, from development right through to maintenance.
The path of dreams and challenges in Tokyo: impossible to achieve alone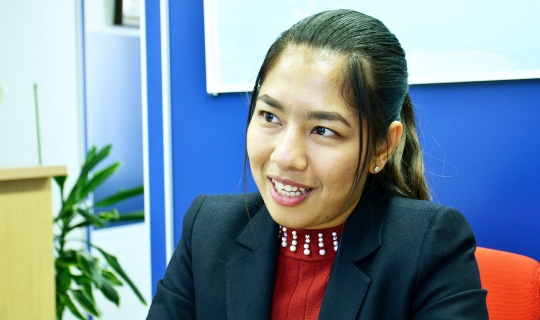 Although I faced a lot of difficulties between first thinking "I want to go to Japan!" and actually getting here, I benefited from a lot of warm encouragement and support from friends and colleagues. This support has become a source of strength for me, and it helped make me who I am now. Everyone in Tokyo has been very kind, and I feel that the Japanese national character is close to my home country of Myanmar, which has left me with a great impression of familiarity. Backed up by by all these encounters, I've enjoyed a series of new discoveries from my private life to my work life. I'd urge everyone to come and discover the joys and challenges of Tokyo—to discover a new you and to encounter your dreams.
Meeting the challenges of the state-of the-art IT field in Japan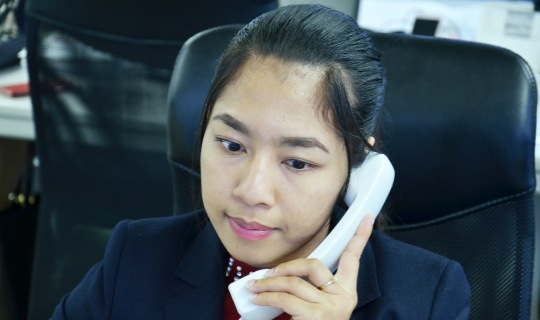 As a programmer, I participate in projects for major telecommunications companies. I'm involved in the development of payment systems, so I come into contact with cutting edge aspects of IT. I spend each day involved in a wide range of development processes: from creating design documents, coding, and testing, right up to release. It's not always easy, but it is fulfilling. We work in project teams of about 20 people, but everyone gets along well and we get the job done through strong teamwork. The most rewarding thing for our team members is knowing that the systems we've created are proving useful in the wider world. Whenever I have a day off from these projects, I consider it important to help nurture junior employees from Myanmar who work at the same company. Since I have a lot of experience working at a Japanese company, I can help them with Japanese language and business etiquette as well as follow up on their daily lives.
Offering mutual support to many friends in Tokyo, and providing clients with the best level of service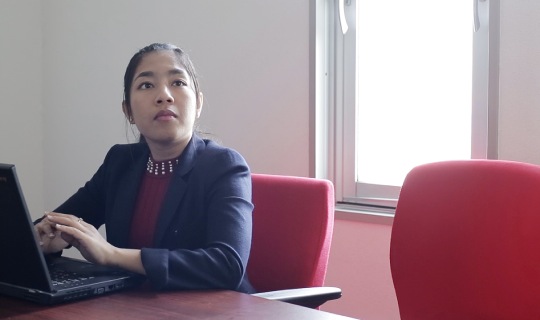 I think Tokyo offers many opportunities to improve one's communication skills. For example, consider delivery deadlines. For any work that deals with systems, following through on the promised delivery date is absolutely essential in retaining the trust and goodwill of clients. I think that meeting closely with clients and undertaking scheduling in order to ensure delivery deadlines are met are important habits you learn in Tokyo. With regard to communication, I think that the businesspeople you meet in Tokyo attach a special significance to reporting, maintaining contact, and consulting. Neglecting problems can lead to a loss of client trust, and this creates more trouble as the scale of work grows larger. It is very important to share the problems facing our clients or our superiors, and then consider how to resolve these and what might be done next. Actions or solutions may not be obvious when considered alone, but after getting advice from colleagues, various courses of action often appear. I think communicating with those around me is hugely important, and in future I intend to keep contributing to our clients while making best use of the skills I have learned here.
Encountering Tokyo, and new challenges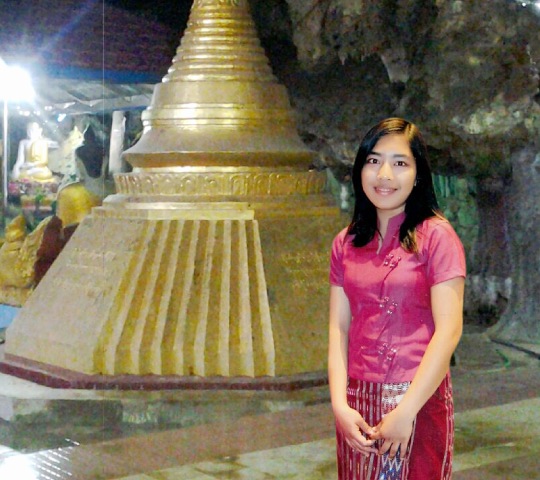 I encountered Japanese culture for the first time when I was 10 years old. The opportunity for this was watching the popular animated movie My Neighbor Totoro, made by Studio Ghibli in Japan. Aside from that, I had an acquaintance in Myanmar who had experienced life in Japan, so I occasionally heard stories about Japan. I first really started to think about going to challenge myself in Japan when I was studying IT in Myanmar. It's my nature to see things through once I start, and so I decided to visit Japan, with its state-of-the-art technical capabilities, in order to deepen my knowledge of IT. I was lucky enough to study IT at a vocational school in Shizuoka Prefecture, and I was surprised by the differences from Myanmar in the learning environment; for example, in Japan every single student was supplied with a PC. I devoted myself to studying hard. While studying IT in Shizuoka, I realized that I wanted to keep going and develop an IT-related career in Japan. Although job hunting in Tokyo would be challenging, Tokyo also offered many options in the IT field, and so with the understanding that this would be useful to me in future, I decided to move to Tokyo. During the jobseeking process, I encountered Witts Technology, and that's when I felt I was close to achieving my dream. I believe that Witts employees and Tokyo people in general have great punctuality and etiquette, are excellent at switching on and off, and are very attentive to detail. In addition to the Japanese culture and etiquette I have learned working in Tokyo, I hope to make best use of my strengths as someone from Myanmar. In future, I hope to grow to serve as a human bridge between Japan and Myanmar.
Encountering new friends and a side of myself I hadn't known before, in Tokyo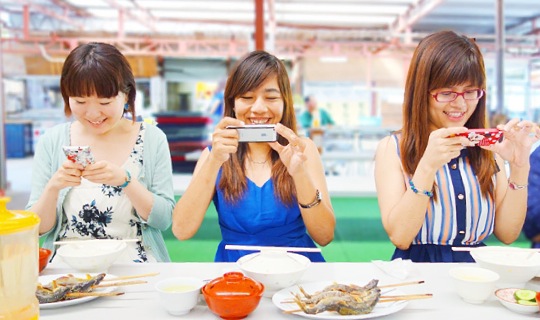 There are always a lot of encounters in Tokyo. Not only encounters with other people, but also many opportunities to come across a variety of new shops, interests, and information. For example, fashion. Tokyo is a very stylish city, and I developed a strong sense of fashion. Personally, I grew to love unique knitting shops, and I now always visit them after work or on my days off. Aside from hobbies, I also love all the lively spots of Tokyo. The city is home to many interesting events, and I often try to find the time to participate. In particular, I try to show up to any event connected to Myanmar. I'm nostalgic for my homeland, of course, but there are also a lot of encounters to be found there. I can meet fellow Myanmar nationals working in Japan, but I can also chat with Japanese people who are interested in Myanmar, and I feel proud at how much attention my home country is receiving. As I live here in Tokyo, I feel more and more strongly that I'd like to let people know all about my native country. For example, I'd like to create a dedicated website so that lots of Tokyo people can have a chance to experience the culture of Myanmar. I was rather anxious when I left Myanmar, but I've been surrounded by warm friends here and I feel like I've found a second family. I hope to continue to cherishing these encounters in Tokyo, and also to find the hidden charms of myself and my home country.