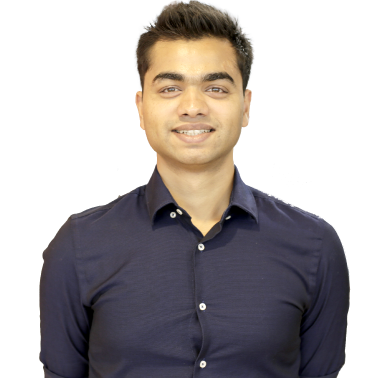 After studying accounting at a university in India, joined a major American securities company.

After working at a major American security company for two years, studied finance at a graduate school in Singapore.

Learned about UZABASE, Inc. from a friend after completing graduate school. Feeling that the company had good future prospects and would provide opportunities for personal growth, and having interest in working in Japan, he decided to join UZABASE.
Populated with warm-hearted people and overflowing with delights, Tokyo is an easy place to live.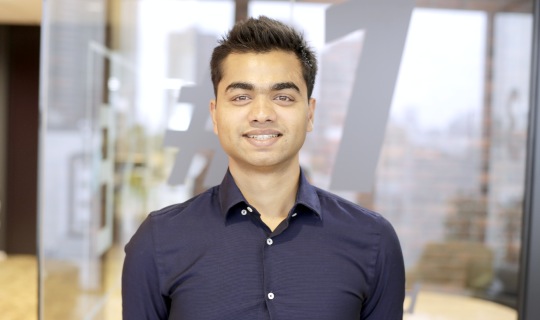 Tokyo is a very convenient place where you can find anything. There are many English speakers, so daily life in Tokyo is not that hard for foreign nationals. And you do not have to worry because the people are generally very kind and friendly.
First, you should come to Tokyo and try the lifestyle. Tokyo is full of delights, from its people to worthwhile work, food, nature, and many other attractions.
I encourage anyone to give working in Tokyo a try.
My mission is to boost the value provided to clients by connecting the world and Tokyo.
In my current work, I am involved in product improvements for SPEEDA, an online information platform for corporate and industry analysis. I listen to feedback from our international customers in Singapore, Hong Kong, and elsewhere and share problems and improvements with the technical team. To deliver good service to customers, I am working on constantly improving quality, listening carefully to customers about their needs and adding new functions they demand. This work has a large impact on customers because even things like small changes in details can lead to improved profitability, so I take a detail-oriented approach. I believe that UZABASE will continue to grow in the future. To this aim, I have both five- and ten-year goals for working in this company. Because the headquarters is in Tokyo it lets me take on many new challenges, the first five years are for fulfilling my roles in such duties as new customer acquisition and new plan proposals. Then, by ten years from now, my desire is to establish a new office in another country. I would like to become the local manager and contribute to the global expansion of UZABASE.
Business people with a strong sense of responsibility are a constant source of inspiration.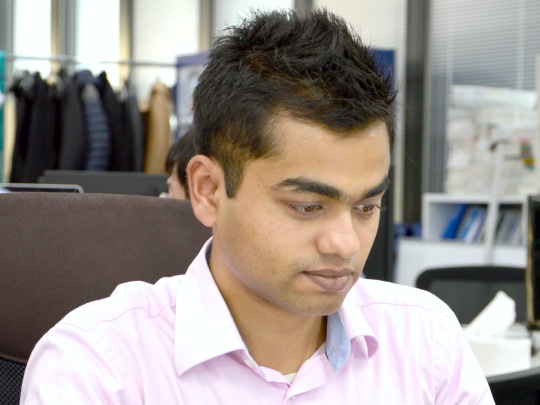 Tokyo has a lot of hard working and talented people. Working in Tokyo, I sensed a strength compared to other countries in how each person is strongly committed to their work. Also, my company is a motivating place to work because it lets you grow in your work by providing many opportunities to take on new challenges. Before coming to Japan, I feared having to work long hours every day. But in fact I have time for a satisfying personal life after work, when I can do things like cook, read, go to the movies. Also, everyone in the office gets along well, and I have many friends there. Everyone is very friendly and we often do things outside of work, which is a lot of fun. I belong to the company futsal (5-man soccer) team as the goal keeper. I am very happy with my current situation because of all the things I can look forward to besides work.
I dove from finance straight into information platforms.
My interest in Japan springs from my grandfather who lived for a while in Japan. But UZABASE, where I work now, gave me my chance. I originally studied accounting at university in India, and then worked in a major American securities company. After that, I entered graduate school in Singapore where I studied Finance. I developed a strong interest in handling management assistance information platforms after graduating, partly because I could use my own experience and knowledge. While job hunting, a university friend employed at the Singapore branch of UZABASE told me about UZABASE. Listening to her, I was convinced that this company would grow in the future and that I could grow there too. This and the fact that I could do my dream job of working on information platforms led to my decision to take the job at the Tokyo headquarters. As I just mentioned, my grandfather had resided in Japan, working on a government agricultural project. It was a strange kind of destiny, I guess. I thought that starting work at UZABASE and working in Tokyo not only would enable me to build my future career, it would also let me learn new things through the language, culture, and people of Japan. After joining UZABASE, I studied Japanese at a Japanese school for one month. As I work in Tokyo from now on, I intend to develop my skills and improve my Japanese language proficiency.
People, nature, foods — the Tokyo lifestyle is full of charm!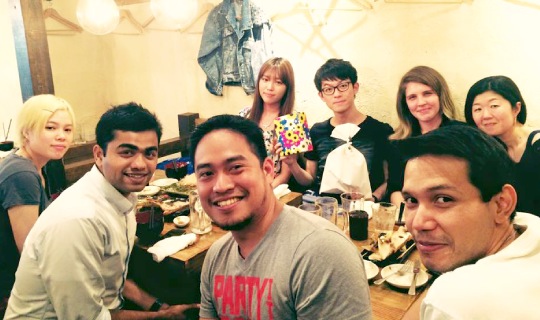 Tokyo has many kind and warm-hearted people. The people on the team I work with helped me a lot when I came to Japan. So although this is a new environment me, I have been able to live quite comfortably without any great trouble.
On my days off, I make an effort to deepen my understanding of Japan by going into towns and coming into direct contact with its history and people. And though Tokyo is a metropolitan, I also frequently go hiking on the weekends, because once out of Tokyo, you can find a lot of nature. The place I thought most beautiful was Okutama in the fall. The autumn leaves were gorgeous. Also, last summer I climbed Mt. Fuji. Tokyo is uniquely interesting because it is both a business center and a place where both nature and ancient culture remain. In the world outside of the workplace, it is very exciting to have experiences with the cultures, people, and values of other countries. If friends ever visit Japan, I want to take them through the back streets of Tokyo. Why? Because the back streets are lined with many, many small restaurants where you can eat good food at a reasonable price. I would really like for my friends to enjoy these original flavors that are found only in Japan.