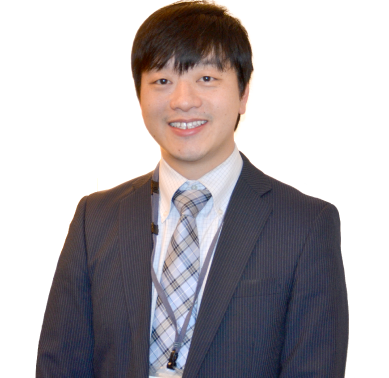 First learned about opportunities to study in Japan from a poster on my high school bulletin board recruiting participants for the Japanese Government (MEXT) Scholarship Program.

Won scholarship of the Japanese Government (MEXT) Scholarship Program, and moved to Japan to study Japanese at Osaka University of Foreign Studies.

After completing studies in Osaka, moved to Tokyo to study at Hitotsubashi University, and completed two internships overseas (Beijing and Austria) before graduating.

Upon graduating, joined a leading Japanese telecommunications company, and worked there for 3 years in the marketing department

After further development of career in finance and advertising industries for 5 years, joined current company in 2010.
Leave your comfort zone: new challenges could lead you to a new world, which might open your eyes.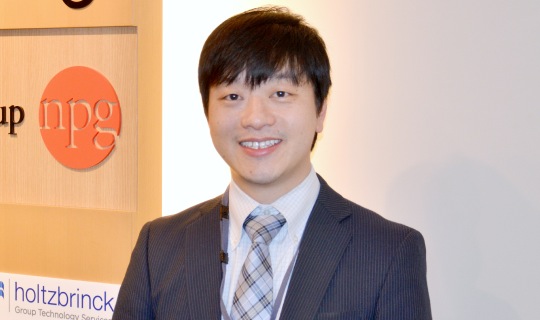 However, it is up to you whether to start trying or not. It might sound quite difficult to make the start, however if you move to a foreign city like Tokyo, I am certain you will change your mind.
You will be able to find a place that will let you work in a global environment doing what only you can do. If I were given the chance to choose over again to pick a place to study abroad, I would not hesitate to choose Tokyo.
Our primary task is to increase international awareness of research achievements of universities and research institutes.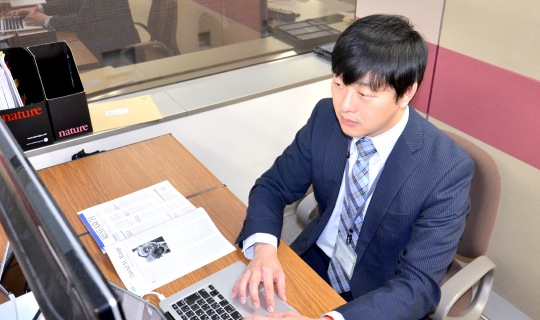 We partner with universities and research institutes to provide solutions for their needs in international public relations. For example, one urgent need is related to low brand recognition.
To solve this issue, it is necessary to communicate the client's latest research results to international audiences in both an appealing and timely fashion in either electronic and/or print media. However, it is difficult for universities and institutes to accumulate the needed expertise that can effectively communicate their research globally across the wide range of scientific research areas at their institution.
Our job is to propose solutions for such needs by providing Nature's expertise in scientific writing, editing and workshops. Being able to provide solutions to my clients is what motivates me most in my current position. Coping with the continuous evolving challenges, creating new solutions while keeping abreast of the latest trends makes this a thoroughly enjoyable job.
Why Tokyo is an attractive work place Tokyo is a leading center of international business, science and technology.
There are reasons I took the big step of choosing Tokyo as a place to work over my home country of Hong Kong. The top reasons I can think of are that Tokyo is international and cutting edge. All the companies I have worked for were quite international, and my current workplace has talented people of various nationalities, including American, British, German, Nepalese, and Chinese, who are active in their respective fields. It is exciting to be able to experience diverse cultures and values in my workplace. I think it crucial to prioritize communication, to understand the other person's position and point of view, and based on this develop strategies for getting things done. Of course, doing this while being able to fully use my Japanese, English, Chinese and other skills is also highly satisfying.
Another reason is my interest since childhood in science and technology. I chose Tokyo for its many world class researchers and research organizations instead of the financial center of Hong Kong. I consider my situation very fortunate because it lets me work with talented researchers and colleagues.
Winning Japanese Government (MEXT) Scholarship Program that enabled me to study abroad was a major turning point in my life.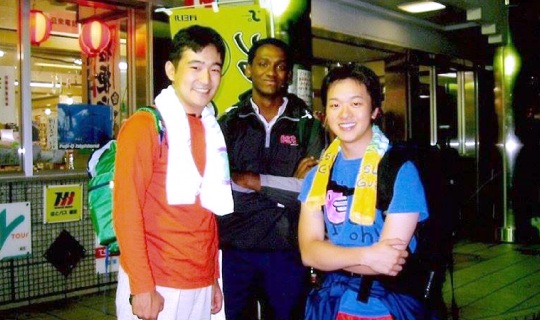 My association with Japan began with a poster recruiting for the Japanese Government (MEXT) Scholarship Program. I was always interested in studying abroad, and instead of America or Europe where most of my peers chose to go, I applied for the Japanese Government (MEXT) Scholarship Program, because of my passion and interest with Asian countries.
Since I won the scholarship, I had to make the decision of leaving the Chinese University of Hong Kong where I was studying at that time. At first, many people opposed my decision to study in Japan. This is because not only would I need to spend two more years to obtain my degree in Japan (compared with studying in Hong Kong), but also in general, universities in Hong Kong ranked higher than Japanese universities. In addition, another difficulty would be that all lectures would be conducted in Japanese. Despite all of this, it was still my strongest wish to study abroad, and in the end I decided to go to Japan. I began my studies at Osaka University of Foreign Studies to learn Japanese for one year and upon completion I entered Hitotsubashi University to study Economics. After spending 4 years at university, I further challenged my abilities of Japanese language and cultural understanding by entering a Japanese company. After a successful period at the company, I continued to challenge myself and build up my career at different industries (finance and advertising) which allowed me to fully use my language capabilities. Through these years of experience, I realized that I really enjoy working with clients to provide solutions to their needs, and that is how I chose to work at my current company.
Tokyo is a marvelous city that has two sides: the active side and peaceful side.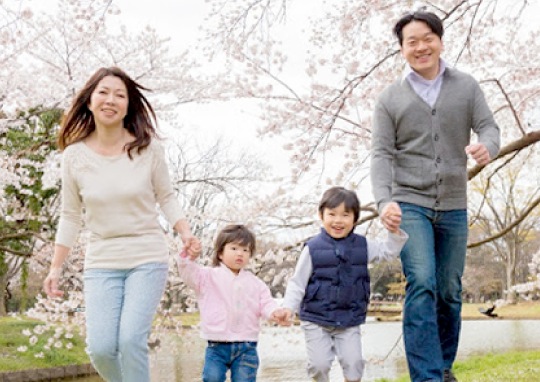 I really enjoy living in a Tokyo, where I can choose how to spend my time according to my interests. When I would like to live actively, Tokyo is full of top level museums, shops and restaurants, which are all reflecting the latest global trends. However, Tokyo won't disappoint you when you would like to slow down. Just within 30 minutes from central Tokyo there are plenty of places to relax including parks, mountains, and nature preserves. My favorite place to relax is the Japanese spa called an "Onsen". Even staying in central Tokyo you can find plenty of spaces with restaurants and cafes that give Tokyo its relaxing atmosphere.
On weekends, I usually take my children to the parks near by. Traveling by public transport is so easy and affordable, and thanks to that I am able to enjoy more time with my family.
These two sides make Tokyo a convenient and cozy city for foreign residents to live in.
Of course, food is a very important part of Tokyo, and I would be remiss if this was not mentioned.. Cooking for yourself is fun because Tokyo is full of all kinds of ingredients where you can find everything you need to prepare your favorite dishes. On the other hand, dining out is also a great way to enjoy time with your friends. My favorite Japanese cuisine is called "kaiseki-ryori", which means you will be amused by multiple, small beautifully decorated Japanese dishes. If possible, I would like to have my foreign friends experience the genuine local foods that Japanese think are delicious. I enjoy taking my friends to places that are usually only visited by local people.
Interviews with Corporations
Antoine Bocquet  Managing Director, Springer Japan KK / Nature Japan KK
Springer Nature is a leading global research, educational and professional publisher with over 30 years' operations in Japan. We have two offices in Tokyo that currently employ over 230 people with 11 different nationalities. Many of our staff work closely with colleagues in the UK, Germany, US and Australia by making full use of their language capabilities and specialized skills. These include not just publishing and editing skills, but also in other areas such as sales, IT, product development and marketing. We value people with high interpersonal communication skills, backed by their understanding of different cultures and international business environments, as well as openness to change.
With our international environment, there is a good blend of Western and Japanese culture where we embrace individual excellence and diversity, while balancing our group wide interests. We hold a number of company hosted events and outings each year to bring our people together.
In Tokyo, many companies are in need of talented people with international perspectives, and hopefully you will find an opportunity that is the right fit for you. ※Since May 2015, Nature Japan KK has been merged to Springer Nature. Please click here for more detail.