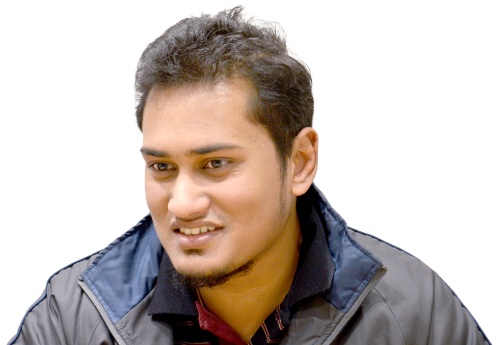 I learned Japanese gradually from classes provided by a language study agency at a university in Bangladesh.

I started studying Japanese in the Japanese language program so that I could work in Japan.
I met the president of Monstar Lab and shared his way of thinking, so I joined the selection process.

I signed a contract with the company I work at now, and joined the company. Then I came to Japan and started work in Tokyo.
I signed a contract with the company I work at now, and joined the company. Then I came to Japan and started work in Tokyo.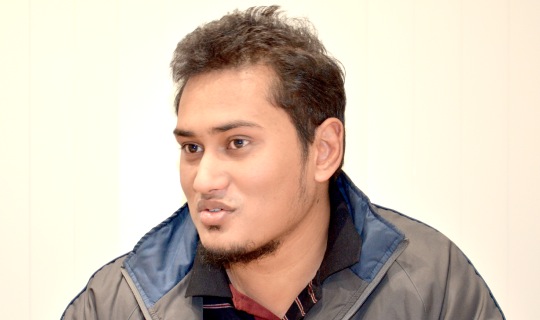 Tokyo is just the best place to live. Its public facilities are well equipped and its transport facilities are convenient, so it is convenient and an easy place for foreigners to live too. The food, lifestyle, and culture of Japan are also very interesting. If you learn Japanese, you get to know more about Japan and enjoy your life here more, so I recommend learning Japanese, little by little. I think you'll lose out if you never come and see Tokyo. You really should come to Tokyo and experience how wonderful it is.
In the future I aim to become a developer of apps and software that help handicapped children in their lives.
My job is to make the company's service sites better. I'm now taking the roles of both a front-end engineer, who works with HTML, CSS, Java script and more to write Web pages, and a back-end engineer, who develops server and database systems. As I do my work, I'm always looking to build good products, services, and new functions to expand the company's business. There are a lot of times when the work is hard and I run into dead ends, but I felt really happy when I completed the global website for Sekai Lab. In my work, I can learn new technologies from my excellent seniors, raising my skills while I work, which I find very beneficial. In the future I aim to become a full stack engineer, able to develop and operate systems, and then develop apps and software that help handicapped children in their lives.
My working environment is attractive, and I can concentrate and extend my skills, which is an appealing combination.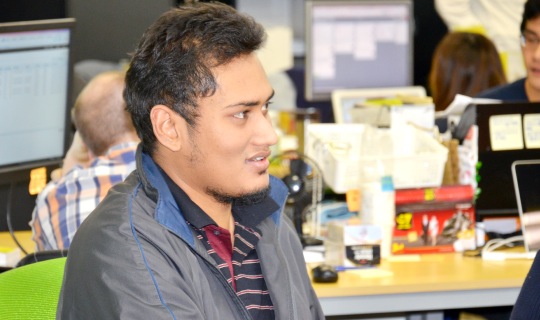 I think of Tokyo as a place that gives me a comfortable environment to work in. The biggest reason for that is that it has a well developed transport network that's really convenient. The capital Dhaka in my country Bangladesh always has terrible traffic congestion, which makes it difficult to get to work, or to meet people, on time. Tokyo has many trains running and the roads are well developed, so I can get anywhere on time. That lets me use my time more effectively, I don't get tired from commuting, and I can concentrate on my work. The second reason is that Tokyo is an environment in which I can raise my own abilities. In contrast to Bangladesh, Tokyo has many highly experienced engineers. By working with them, I can learn new skills. Tokyo also has many specialist books in its libraries and bookshops, and it has fast Internet with good access to information, so it has an attractive environment with everything I need to study by myself and build up my abilities.
I put my own dreams together with the ideas of Monstar Labs' president, and decided to work in Tokyo.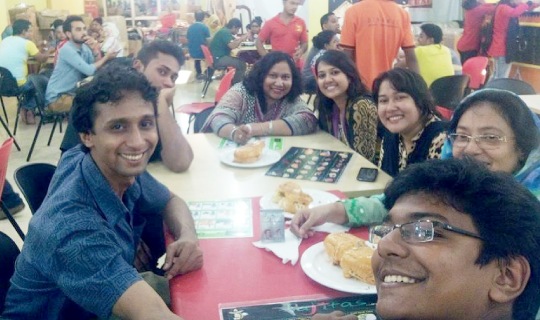 My father worked for a Japanese-affiliated company in Dhaka, so I have long had an interest in the way Japanese people work, having a sense of responsibility for their work and trying hard. After I graduated from university, I thought I'd like to work in Japan, to learn about the Japanese way of working, so I joined a Japanese language program provided by an IT company, and started learning Japanese.
I got my chance to work in Tokyo when the president of Monstar Labs visited Bangladesh to establish an office there. At that time, he was looking for young and able personnel. There were many engineers in Bangladesh who wanted to work in Japan, so he gave those of us who participated in the IT company's Japanese language program a chance to interview with him.
When I heard what the president of Monstar Labs had to say, I saw that his approach matched my own future dream of "using IT to make myself useful to handicapped children". I felt that working under a company president who shared my ideas would be a big step towards realizing my dream. Another attraction was that Monstar Labs has many highly experienced engineers, who could give me plenty of challenging opportunities. Joining Monstar Labs and working in Japan was a huge challenge for me personally, but I was determined to achieve personal growth and realize my dreams, and I joined the selection process. I passed the selection process and came to Japan.
I want my friends from Bangladesh to come to Tokyo and try the trains!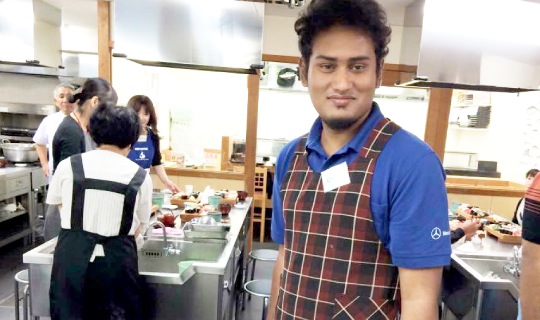 Before I came to Tokyo, I was worried about whether I could do my job well, and whether I would get used to a new environment. When I actually got to Tokyo, I thought it was a very clean city, with no trash in the streets and the buildings thoroughly cleaned inside as well. I also thought it was a safe and very convenient place where I could go anywhere easily.
The most appealing thing about Tokyo for me is the trains. That's because Tokyo's trains connect to nearby cities as well as running around Tokyo, so it's convenient to go to all kinds of places. Bangladesh still doesn't have electric trains so when my friends from Bangladesh come to Japan, I introduce them to the excellent trains.
There are a lot of places I like around Tokyo, so I often go out by train. Shibuya and Ginza have stylish shops and delicious bars and restaurants, so I really like them. At Tsukiji I can see all kinds of Japanese fish and traditional fish cuisine, which is fascinating. When I visited Tsukiji before with colleagues, I tried my hand at making sushi. My first experience of cutting the fish and squeezing the rice made a strong impression on me. I also like the parks at Meguro and Ueno, which have abundant natural life. Even though Tokyo is a big city, it has many parks bursting with greenery, which was a fresh experience for me.
Interviews with Corporations
COO Ikkei Okuma
We expect Rafi to become a bridge linking offices around the world!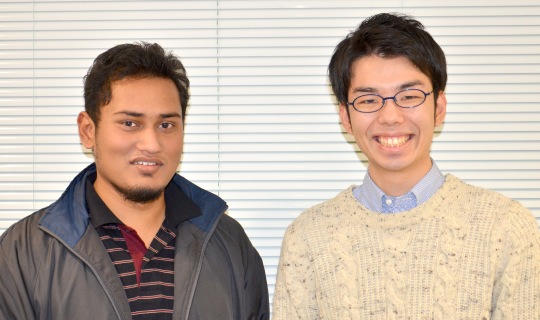 Rafi is one of the first Bangladeshis to come and work at our Sekai Lab Tokyo office. Foreign employees are not unusual at this company, but he managed to learn Japanese quickly while sticking properly to his own rules as a Muslim, such as prayer and food restrictions, and he fits in well with everyone. As an excellent engineer, he is, above all, working as an important member of our team. In the future, we look forward to seeing him become a bridge linking our office in Dhaka, Bangladesh with Tokyo and our other offices around the world.