Two different application documents are required.
If you understand the keys to creating these,
your application documents will make a better first impression.
What are the
application
documents?

These are actually two separate documents—the rirekisho and the shokumu keirekisho. A cover letter is not required. Applicants with good English language skills should also prepare a resume in English to demonstrate their English ability.
What is a
rirekisho?

This is a timeline summary of your employment following university. The rirekisho is a tool to convey the fundamentals of your own academic history and work history. Although it may be hard to distinguish yourself from other applicants, appearance is important since it makes a positive impression on those responsible for hiring.
How to write a rirekisho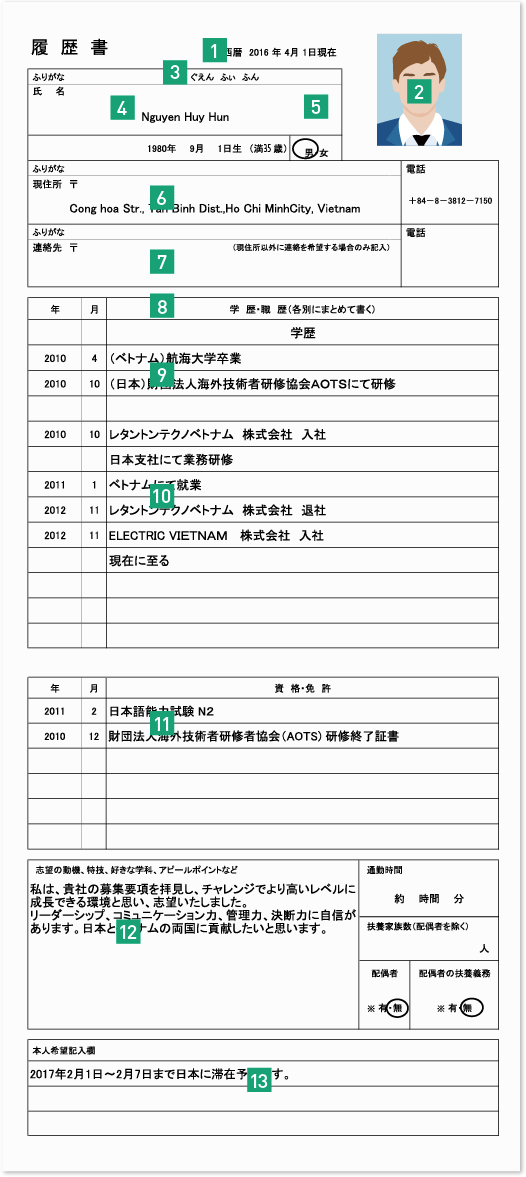 Date of entry

Write the date that you send it in via email.
Photo

Plain white background
Wear a suit
Pronunciation (furigana)

Write in the pronunciation of any kanji characters in hiragana
Name

Either alphabetically or in kanji characters
A seal impression is not required
Current address

Start with the name of the country you live in Write your phone number starting with the international calling code
Contact details

If your future address in Tokyo has already been determined, include this here
Academic & employment history

You can skip your academic history below the age of 18
However, as an exception to this rule, if you've studied in Japan before, you should write it in here
The academic institution (or company) name can be written in English
Write your employment history after your academic history
Qualifications & licenses

Write these in order of date of acquisition, prioritizing any qualifications related to the job
Motivation for applying, special skills,
favorite subjects, points of appeal, etc.

Write the reasons why you want to work for this company. It's a good idea to include any memorable points of appeal such as skill at sports, musical instruments, etc.
Comments

If you already have firm plans to travel to Tokyo, include your planned dates here.
【Please note】

The following information is not
required

Nationality
Religion
Passport number
Bank account information
Height / weight
Name / age / workplace of family members
Proofreading
Using the spellcheck function, check that your document contains no Japanese language mistakes.
| | |
| --- | --- |
| What is a shokumu keirekisho? | This document showcases the desirability of your employment experience. |
5 elements to include in the
shokumu keirekisho

What kind of employer? (overview of industry & company)
What kind of work? (department, job category, details of work tasks)
What kind of efforts and performance? (attitude to work, ability to learn)
What kind of results achieved? (outcomes, proven track record)
What kind of work do you hope to tackle in future? (enthusiasm)
How to write a shokumu keirekisho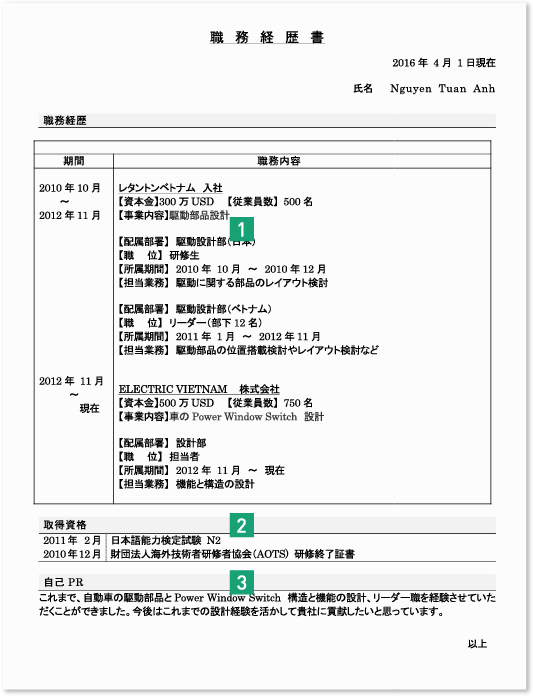 Layout & length (pages)

The document should be 1 or 2 pages in length. Write the same dates as those listed on the accompanying rirekisho.
Employment history

In the company overview, you should clearly indicate the scale of the company and a description of its business.
If this is a leading company in your home country, include its market share (or ranking) within the industry.
Indicate performance using concrete figures. Indicate the company's performance and your own performance separately.
If you have management experience, include details of your role and the number of personnel beneath you.
Qualifications attained

Write in the date of acquisition and the correct designation of any qualifications attained
Include any results from the Japanese-Language Proficiency Test, TOIEC testing, etc.
Self-promotion

This should showcase your actual abilities in relation to the specific job listing.
If you've had a long-held intention to work for the company that is hiring, include details of that intention here.
Reference: HelloWork Internet service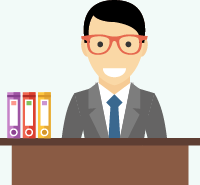 What sections of the application documents
get the most attention?
IT HR Manager A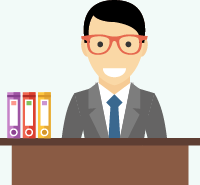 I pay the most attention to 2 areas of the application documents
1.Work experience in the applicant's home country
I scan the application documents to check whether the applicant has any employment experience in common with the position advertised, such as similar industry, job category, goods or products handled, etc., as well as their knowledge of business customs, contacts in the home country, etc.
2.Affinity for Japanese language & Japanese corporations
Rather than the applicant's current level of Japanese language ability, I want to know how fast they will be able to acquire Japanese language ability. For example, even for an applicant with level N3 of the Japanese-Language Proficiency Test (JLPT), I will look at how long they've been studying Japanese. I also read through the rirekisho and shokumu keirekisho looking not only for work experience at Japanese corporations, but also evidence of understanding of Japanese corporate culture—for example, experience trading with Japanese corporations, part-time work experience at a Japanese restaurant, etc.