Q.

Please tell us about
things to do in Tokyo.

A.There are many ways to enjoy yourself in Tokyo; there is the Shitamachi area in which you can feel the traditional culture, the city areas in which you can experience the latest technological trends, and the great outdoors where you can admire the beautiful mountains and rivers.

We asked
100 foreigners
working in Tokyo
What is your favorite place
in Tokyo?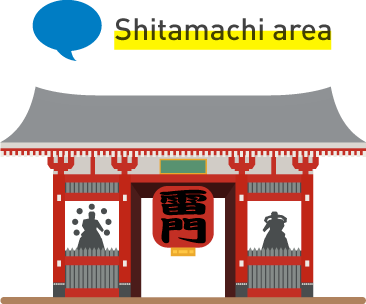 Ikegami. I like the Shitamachi atmosphere. The area is also home to splendid temples and delicious confectionary stores. It is an interesting and unique area that differs from the image of urban Tokyo. Taiwan, 28,
sales, marketing
I like Asakusa. I feel it is the most "Japanese" place in Tokyo. Brazil, 38,
admin, management
Ryogoku, because I love Sumo. Ryogoku is home to the Kokugikan National Sumo Stadium, and there are also many Sumo stables and Chanko Nabe stores (Chanko Nabe is a kind of stew that's known as the original sumo food). Germany, 31,
admin, management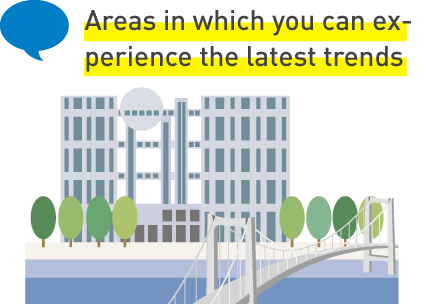 I like Oku-Shibuya, the area from Yoyogi-Uehara to Yoyogi-Hachiman Station and Tomigaya. I spend my weekends relaxing in Tokyo. Hong Kong, 32,
creative
Shibuya is always crowded and fun. I also like Akihabara because I can purchase a variety of products there. Vietnam, 25,
IT
I often hang out in Ikebukuro. There are many anime, manga and character stores for women in Ikebukuro, so I think it's a great place for shopping. Hong Kong, 22,
sales, marketing
I love Nakameguro because you can view the cherry blossoms in Spring. I like Daikanyama and Omotesando too. I also enjoy having a picnic along the Futako-Tamagawa river in the afternoon when I have a day off. Taiwan, 24,
admin, management
Rainbow Bridge and Meguro River. Rainbow Bridge is the place where I can feel Tokyo the most. Meanwhile, viewing the cherry blossoms at night along the Meguro River during the spring is like appreciating art. South Korea, 43,
sales, marketing
The Tokyo Metropolitan Government Building Observatories. I always take my friends there when they visit Tokyo. The views are great and it's free! South Korea, 34,
IT
Shinjuku Gyoen, Mount Takao, Showa Memorial Park and Ueno Park are areas in which you can enjoy vast greenery. Vietnam, 27,
IT
I recommend Ueno. There is Ueno Oncho park and a zoo. There are also department stores and volume electronics retailers. For me, it is a place where anything is possible. It's a highly satisfying area. Taiwan, 28,
sales, marketing
Odaiba is an area where you can stroll along the sandy beach and relax with a view of the sea. Hong Kong, 22,
sales, marketing
Tachikawa. Because it is a great place to admire the cherry blossoms and enjoy the smell of nature. Hong Kong, 26,
IT
Kunitachi. It's a stylish area full of greenery where I can enjoy the four seasons. Hong Kong, 30,
service
Things to do: Official Tokyo Travel Guide
"GO TOKYO" website