Q.

How do you spend a
typical day in Tokyo?

A.A. People working in companies work from 9am to 5pm Monday to Friday and may even stay in the office until 10pm when working overtime. Saturdays and Sundays are generally days off and there are also many public holidays, but some workers in service industries and real estate have their days off during the week and spend the weekend working.
Although work in Tokyo can seem hectic and stressful, there are many places and services which allow you to take your mind off work and fully enjoy yourself during the evenings and your days off.


Mr. A
(Malaysia, 27, IT, development engineer )
Mr. A
(Malaysia, 27, IT, development engineer)
A WEEKDAY
AM
6:00

Wake up
Watch the news on TV
Study Japanese while watching the news. I study a little bit every day.
Drink black tea with breakfast
AM
8:00

Leave home
Walk about 10 minutes to my closest station.
AM
9:00

Interpret in a meeting for
customers
from America.
Maybe my English is better than my Japanese...

AM
10:00

Development work at my desk

AM
11:00

A lunch meeting about
a new service
with the
members of my project team
I often go to a ramen shop near my company that is well-known in Tokyo. The tsukemen (dipping noodles) is great!
PM
2:00

Development work at my desk
PM
4:00

Join a team debriefing
about the system
I still have a lot to learn and I have to improve my Japanese even more.
PM
6:00

No overtime today. I'm going to a Chinese restaurant in Ikebukuro with my friend from Malaysia. I relax the most when I spend with friends from the same country as me.

PM
11:00

Arrive home
AM
00:00

Go to bed
SUNDAY
AM
6:00

Wake up
Study
(study marketing by
watching a video)
On my days off, I get up early and study.
I learn the most when I study by watching a video.
AM
9:00

Take the monorail to Odaiba

Buy clothes at the mall

PM
12:00

Eat lunch at an omurice
(Japanese omelet rice) restaurant

PM
1:00

Enjoy a street performance
and a show
PM
3:00

Go look at a display
of anime characters
I've loved Japanese anime since I was a kid and it's the reason why I wanted to visit Japan.
Take pictures of the sunset
over Tokyo Bay

Watch a beautiful light show
on the buildings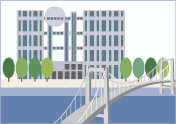 PM
6:00

Dinner at an anime character
theme park
PM
7:00

Go home
Playing soccer game at home
PM
10:00

Go to bed