Q.

Please explain more about
clothing in Japan.

A.Japan has four seasons—spring, summer, fall, and winter. You'll have to prepare clothing for each of the four seasons, since the difference in temperature between summer and winter can be greater than 20℃.
Spring


March–May

Light coats, jackets,
long-sleeved shirts

Many spring days are quite chilly in the morning and evening.
Starting from May, the temperature can reach 20℃ or higher during the daytime.
Summer


June–August

Light jackets,
long-sleeved or short-sleeved shirts

This is the hottest season of the year.The rainy season lasts from June to July, marked by continual rain and high humidity.Once it ends, the rainy season is followed by many hot days of 30℃ or higher.In order to save energy on cooling, many companies follow the recommended "Cool Biz" policy and allow employees to wear short-sleeved shirts and no necktie.
Fall


September–
November

Light coats, jackets, long-sleeved shirts

September still has long stretches of hot days. From October, temperatures will drop gradually and mornings and evenings may get chilly.
Even when the temperature is low, the skies will often be clear.
Winter


December–
February

Heavy coats, jackets, long-sleeved shirts

From December to February, there will be many continuous cold days. Sometimes it snows, even in Tokyo.

We asked
100 non-Japanese
people
working in Tokyo
What is your favorite
season in Tokyo?
| | |
| --- | --- |
| Spring | Summer |
| Fall | Winter |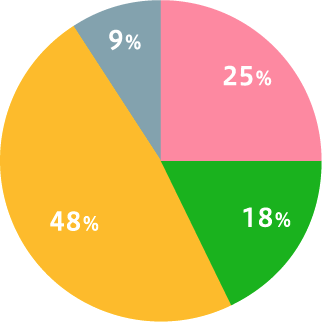 ●

It's because I like
the cherry blossoms—
they're very pretty.

●

There are lots of opportunities for picnics in spring, and the flowers are beautiful.

●

I feel refreshed by the new year and the cherry trees blooming all at once across Tokyo. It really feels like spring is a new start for everything.
●

The daytime is longer,
which makes
working easier.

●

It's great weather for going outdoors. I can travel during my summer vacation.

●

There are fireworks and festivals to enjoy on my days off.
●

Fall is just right—
not too hot, not too cold.
The fall foliage is so beautiful and romantic.

●

The weather is cool. I get to wear fashion
that I can't wear in my home country.

●

The weather is perfect for activities—everyone looks so healthy and energized.
●

Compared to Taiwan, where it's warm all year round, Japan has four distinct seasons. I enjoy wearing winter fashion that I can't wear in Taiwan.

●

I love snowy landscapes, which I don't
get to see in
my home country.