Q.

How much will I need to cover
living expenses each month?

A.If you live or work in Tokyo, your living expenses will tend to be high. In the case of Employee A, who has rather low household and food expenses despite living in central Tokyo, monthly living expenses are around 130,000 yen. In the case of Employee B, who lives alone and mostly dines out, monthly living expenses are around 180,000 yen.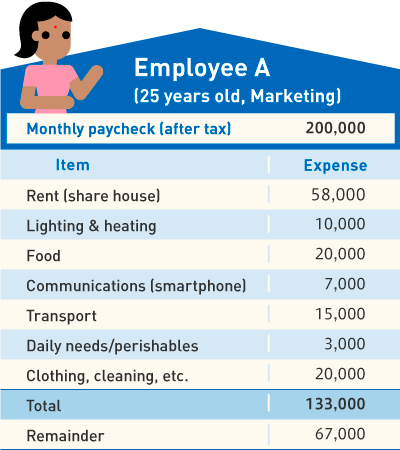 The most expensive sections of my living expenses are rent and food. When I first came to Tokyo, I rented an apartment, but to lower my rent I now live together with a Chinese friend of mine.
Regarding food expenses, if I dine out lunch will be around 500–800 yen while dinner will be around 800–1500 yen, but I save on costs by cooking dishes from my home country for myself and packing my own lunchbox.
Some things are cheap in Tokyo, though: medicines, electrical appliances, candy, glasses, etc. If you go to a 100 yen shop, where everything sells for 100 yen, you can buy all kind of items for daily use quite cheaply. Tokyo has a diverse range of products, so I look for cheaper stores and products when I buy.

I'm renting an apartment by myself, but because I wanted somewhere more spacious, I'm living in the suburbs, 30 minutes or more from central Tokyo.
Because Tokyo is so big, transport costs such as train or taxi fares are higher, but Japanese employers cover the cost of a rail commuter ticket, which means that I can travel into central Tokyo whenever I like. It's really helpful.
I often enjoy my days off by going to free events, parks, or nature walking. I have some friends who send money to their families back in their home countries. If you don't do a lot of shopping, you can save money.